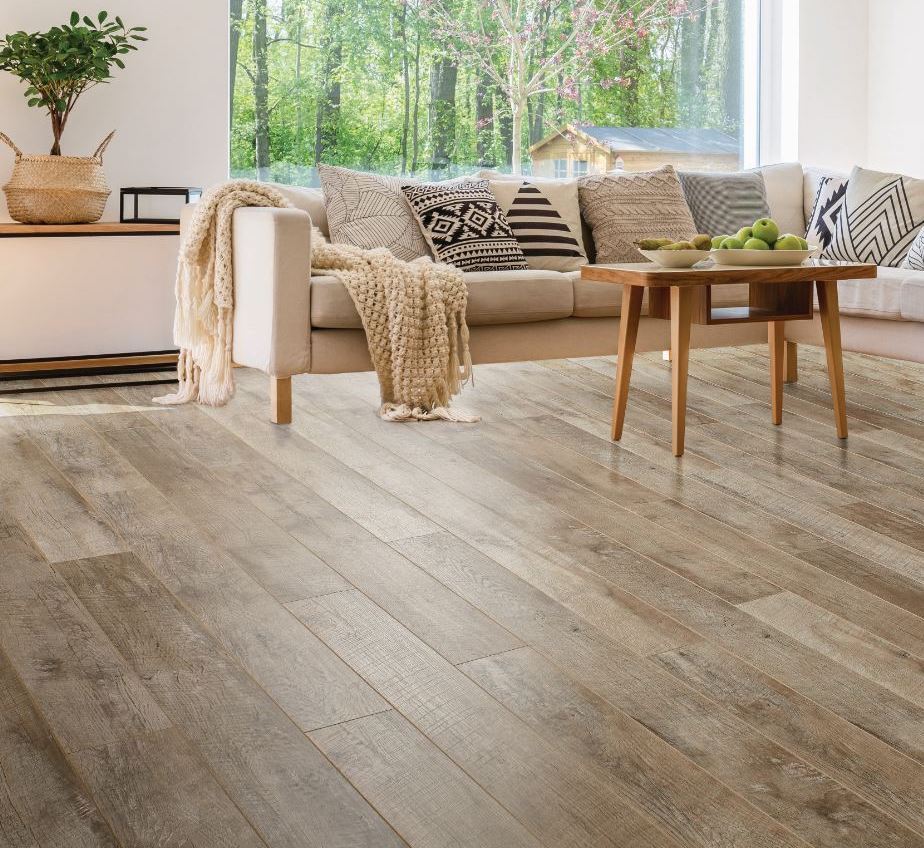 The Benefits
of Laminate Flooring
The unique construction of laminate flooring produces luxurious visuals of wood, tile and stone in a high-performing, budget-friendly product. Great for high-traffic areas within the home, laminate floors are durable, easy-to-maintain, and resistant to stains, fading, moisture, and wear. The laminate floor coverings we carry have the best characteristic laminate has to offer.
Why  Laminate? 
Laminate flooring is a remarkably durable surface that is stain-resistant and does not need to be varnished or waxed. This makes it very easy to maintain. These are floors for busy households, especially homes with kids and pets.
Understanding the Pricing
When considering laminates, there is not much price variation in the various styles. This is due to the relatively uniform manufacturing process for all laminates. No matter what the style, color, or type, it is still a photograph that provides a decorative surface. More expensive laminates include those with a textured and more natural-looking surface with a greater number of screens. Laminate floors that simulate the more exotic varieties of hardwood flooring quickly rise in price. However, higher-end laminates are more durable and have extended warranties.
No Harsh Chemicals
Laminate flooring is generally installed as a floating floor, which means that no glues or adhesives are used in the installation process. This is not only better for the environment but better for your home as well. Additionally, laminate is not made with preservatives or solvents. And because it is so easy to clean, you'll find yourself using fewer cleaning chemicals.
Because there are no harsh chemicals used in the creation or installation, it's considered ideal for those with allergies or asthma. Along those lines, laminate wood flooring is also considered superior to the carpet for homes where allergies are a concern, as it's much quicker and easier to clean, and doesn't trap allergens the way carpet can.
Eco-Friendly until the End
When the time comes to remodel and replace your old laminate flooring with new, this material continues to live up to its eco-friendly reputation. Floating floors are easy to remove without damaging the boards, allowing them to have a new life in another room. Alternatively, laminate wood flooring can be recycled, ground up and composted, or even burned as a source of energy. The lack of synthetic chemicals makes all of these options safe for the environment.
Popular Uses of Laminate Flooring
Laminate wood flooring is ideal for many home applications. It's especially ideal as kitchen flooring, as it is easier to clean and maintain than hardwood. Homeowners with young children and pets may choose to use it throughout the house, as its durability lets it stand up to dirt, mud, and all the mysterious stains and spills that a busy family can create.
Because it's available in a variety of stains and wood grains, mimicking the look of various natural wood, laminate flooring is well-suited to any décor style. Whether you're trying to evoke a particular historic era or have a chic modern home, there's a laminate option for you.
When it's time to remodel your home, consider laminate wood flooring, the eco-friendly choice.
TESTIMONIALS
What our clients say